As a Thank You to our Loyal Shareholders, President and Co-Founder Raymond C. Dabney has now Presented registered Shareholders of Record a Loyalty Gift.
*** For each Common Share you own, you will exchange that share for 1.5 new shares of a New Class B Share. The OLD Common shares will be cancelled after this stage of our transition.
(1,000 shares = 1,500 shares)
There are a number of documents and procedures to complete this process so be patient as it will be very worth your while!
The NEW shares are being designed now, your Broker and/or the Transfer Agent will be given instructions complete the transaction, so you need to do nothing right now. The transition should be completed in the First Quarter of 2020 and everyone will have their shares.
Trading on an exchange is another process, there are a number of options available to the Company and we will go over those details in another communication including much more detail in the following topics:
The new share structure and how it affects you.
What is your shareholder gift and why?
New share issuances, procedures, and timelines.
Projected share values of each class of shares, projected trading status.
Individual Cannabis Science Project files, cash flow projections, timelines.
First Rights and Investments.
Projected $25,000,000.00 USD IPO timeline and process.
We are all expected to do very well!
Thanks again for your Support and Loyalty!
Stay tuned, we are launching a whole new section with your procedures, timelines, trading status, share
valuations and project outlines.
This is about to get REAL GOOD !!!
Happy Thanksgiving
- Raymond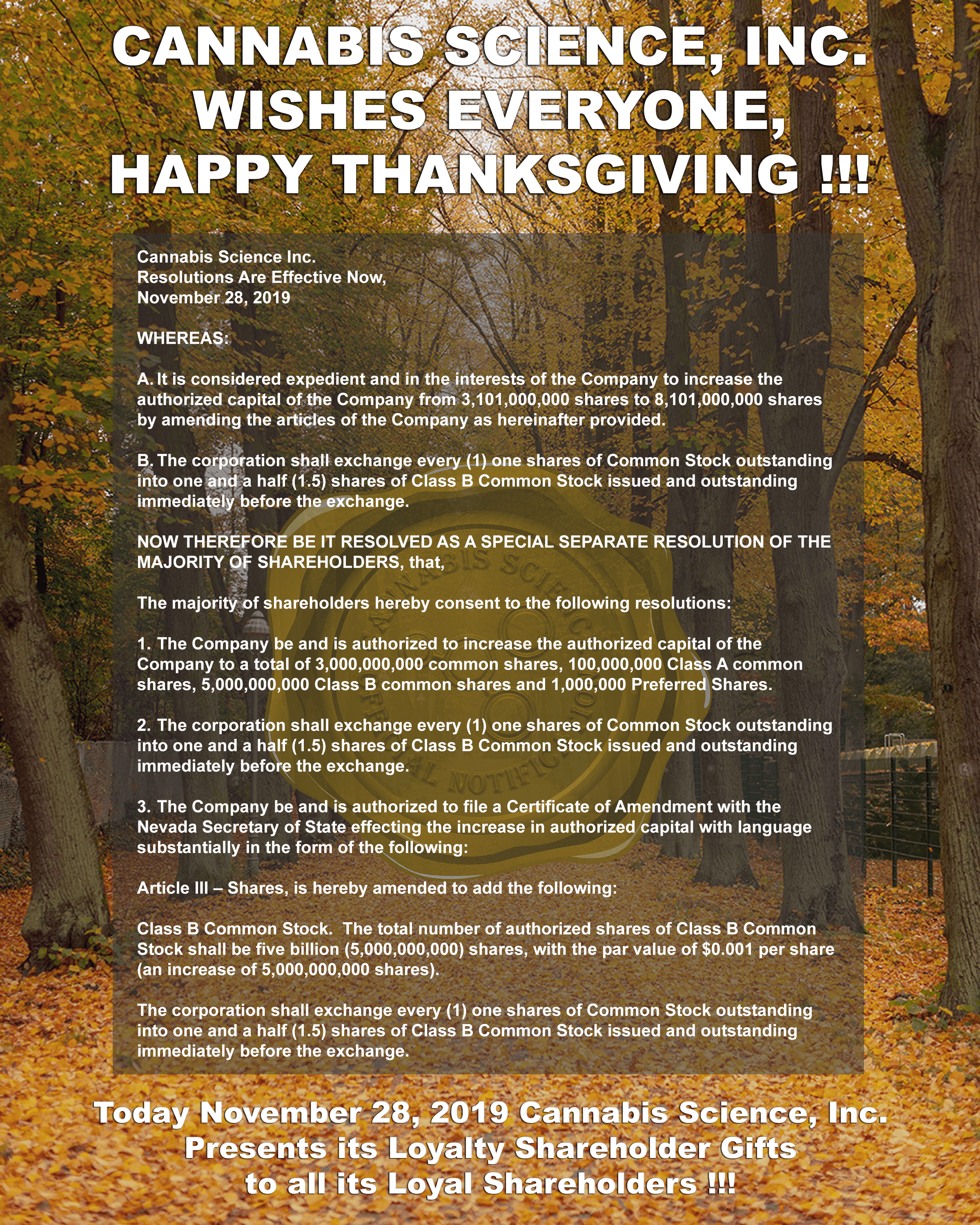 ...



Show More
Show Less